Relief for sinus infections is here! Today I share some of the best natural remedies and cures for sinus infections. These treatments have all helped me in the past.
Sinus Infections
Last Tuesday I started to feel a little bit of sinus pressure and a sore throat, which are usually the first sign of a cold. I've always had problems with my sinuses, so a simple head cold can set me back a few weeks. At the beginning, I sneeze nonstop and my nose is so runny that I go through boxes and boxes of tissues. Towards the end my nose gets so stuffed that I can't breathe and I end up with a sinus infection and sometimes even an ear infection. I used to get colds several times a year, but my immune system is pretty strong now and I only get one a year, if at all.
Fortunately this latest bout never resulted in a full blown cold. But somehow I skipped right over the sneezy, runny nose stage and went right into the sinus infection part. Instead of going to the doctor for antibiotics, I started a regimen of natural treatments, right at the first sign of sinus pressure. (If sinus infections become severe, I do believe antibiotics are needed. Plenty of probiotics need to be taken as well, since antibiotics destroy beneficial bacteria, along with the harmful bacteria.) I'm not sure if just one or two of these treatments helped me, or if it was a combination of all of them, but after a few days of being sickly, I'm finally feeling better.
7 Ways to Get Natural Relief for Sinus Infections:
Rest
Rest is key to healing the body. I got 10 hours of sleep a night for a few nights in a row and also took naps during the day. Unfortunately I also had to cancel plans with friends, but I wouldn't have been much fun anyway.
Supplements
There are many supplements that help strengthen the immune system, help fight off infection and shorten the duration of illness. I've been taking a mix that contains garlic, mullein, olive leaf extract, astragalus, goldenseal and echinacea along with a few other things. Vitamin C is also important for immune system health.
Oil of Oregano
Oil of oregano is known to be a potent antiviral, antibacterial, antifungal, and antiparasitic oil that can reduce pain and inflammation and effectively fight off infections. It is also known to strengthen the immune system and improve respiratory health.
The more expensive the oil, the better the quality. Look for oil of oregano that has not be diluted with other ingredients such as olive oil. Have one drop in a glass of water three times a day. It is really unpleasant, so I suggest drinking it as quickly as possible.
Colloidal Silver
There has been some controversy over colloidal silver, and it's made the news because consuming it long term can cause people to turn blue. Yes, blue. But it's a powerful disinfectant and antiseptic and is also know to fight off bacteria, viruses, fungus and parasites. Colloidal silver nasal spray is on the market and has been know to fight sinus infections.
This time I used i to fight off ear infection, though. I just placed a couple drops in each ear a few times a day to keep the infection from spreading from my sinuses to my ears, because I could tell that was the direction it was heading in. I once had a terrible inner ear infection that survived two rounds of antibiotics, but went away after just two days of using colloidal silver in my ears.
Tea Tree Oil and Eucalyptus Essential Oil
I have one of those little Conair facial steamers gadgets. I filled it with water and added three drops each of tea tree and eucalyptus oils and steamed my face for about 10 minutes, twice a day. It's really nice, even if you're not sick. If you don't have one of these nifty contraptions, you can just boil water and add the oil.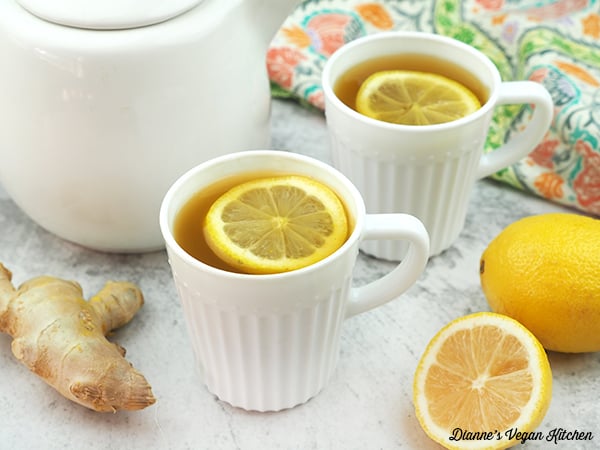 Apple Cider Vinegar
Two tablespoons of apple cider vinegar in a glass of water can help clear sinus infections, In fact, apple cider vinegar is supposed to cure just about anything that ails you, from sinus infections to acne and high blood pressure.
It's one of the main ingredients in my Sinus Buster Tea.
Saline Spray with Xylitol
I use XClear. Saline spray keeps the sinuses from drying out. Xylitol is a naturally occurring sugar that interferes with bacteria's ability to adhere to body tissues. It also makes bacteria more susceptible to the body's natural immune system defenses.
Nasal Wash
This remedy was first recommended by a fellow classmate at the Institute for Integrative Nutrition on the school's online education forum. I've looked it up online and many people recommend it. It's exceptionally unpleasant so I used it as a last resort, but it works. To make it, I mixed equal parts hydrogen peroxide and water and add a pinch of sea salt and two pinches of baking soda.
I put the mixture in a syringe, and I laid down on my back with my head tilted back. Then I squirted the liquid in each nostril. I stayed on my back for as long as I could handle the burning sensation that it creates and then rolled over and let it the mixture drain out of my nose into a tissue. Like I said, unpleasant, but it does the trick.
I highly recommend using distilled water for this, because you never know what could lurking in your tap water.
More Things to Try
Neti Pot
Another option would be to use a neti pot. When I posted on Facebook that I was fighting a sinus infection, many friends recommend using one, even after I said that it doesn't work for me. (So why continue to suggest it, friends??)
I first bought a neti pot about 15 years ago, after reading about how much it helps with sinus problems. I was really excited to try it, thinking I had found the magic cure of my reoccurring infections. However, my sinuses aren't formed properly, and I actually don't even have a sinus cavity in my forehead. So the neti pot doesn't work for me. The nasal wash either goes straight down my throat or it just hangs out in the sinus cavity and doesn't come back out. It's really unpleasant. I tried many times to make it work, but I finally came to the realization that neti pots and my sinuses just don't get along.
Stay Away from Sugar and Dairy
It probably goes without saying, but it's also important to stay away from dairy products and sugar. Dairy products cause excess mucus production in the body along with lots of other problems. Sugar will feed a bacterial infection and will just make a sinus infection worse.
Medication
I also recommend avoiding over the counter sinus medication and decongestants. The ingredients in those medications have so many side effects, they may actually be worse than congestion and sinus pain. I made the mistake of taking one of them last week and it made me crazy. Really. Crazy. They make me really jittery and nervous and keep me awake, even if they're supposed to help with sleep. So just stay away.
Do you have any natural cures for sinus infections I may have missed in my regimen?